Story Theatre Touring Shows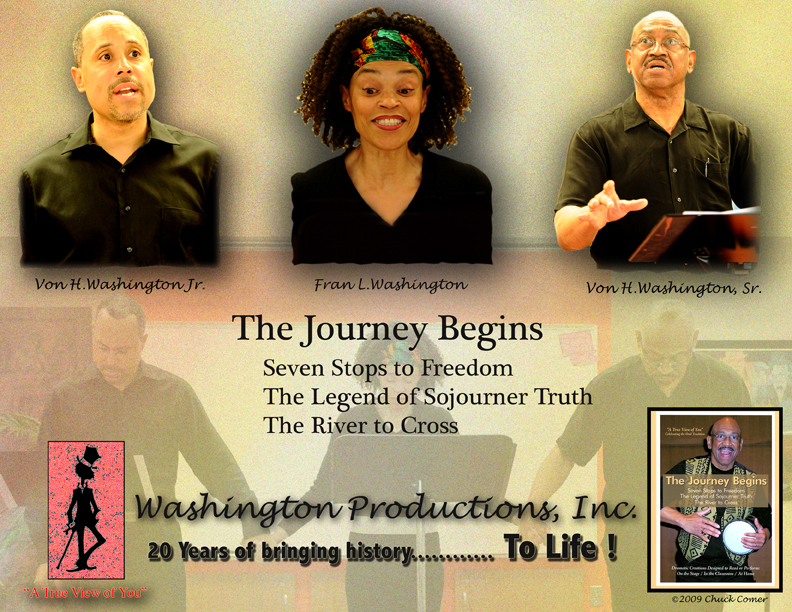 Von and Fran (And sometime Von Jr. and Alicia) have a great love for Storytelling that educates and entertains. Using the Story telling style of the African Griot they use their highly polished professional theatre skills to conjure-up living moments from the written page. Moments that become wondrous, magical, and exciting, right before your eyes.
About the touring shows
All performances run approx 45 minutes in length, are always available, and are suitable for all ages. Performances are done using scripts with actors live and in character. All Scripts are available for purchase and they are suitable for class and home reading as well as staged performances.
Scroll down for descriptions
Langston's Dream/The River to Cross/The Long Ride Home/The Path to Everywhere/ Seven Stops to Freedom /Aesop and the Dancing Computer/A Seat for Rosa The Life and Times of Rosa Parks/When Freedom Came/African American Folktales I Aftrican American Folktales II/Mystery in the Bottom/The Children of Herero/The Dream Tunnel/The Legend of Sojourner Truth/Reflections of Martin Luther King/ Screaming Lydia/The Day they all Came/Let The Brotha Talk/Looking for Talika/Voices from Black America/ I Probably Shouldn't Say it . . .but
The River to Cross (New this season!!!) --This true story of happiness, intrigue, and danger, takes place in 1849 as William Bright Connor and his family travel to the American North, to escape the ravages and complexities of southern slavery. On a seemingly never ending journey that takes them through the Blue Ridge and Alleghany Mountains of North Carolina and Virginia, and on through the valleys and flat land of Ohio and Indiana, they face natural exhaustion and capture by slave raiders who, on several occasions, attempt to capture them and sell them into slavery, whether they are free or not. The Connor family is up to the challenge but in one encounter, success exacts a heart-wrenching price.
Langston's Dream --Young Maku Taylor is given an assignment to write a poem for his history class but he is afraid that his male friends--who think writing poetry is dumb--will make fun of him. However, when talking to his father, Maku hears the story of the Harlem Renaissance and, for the first time, he learns of the poets—men and women—who wrote "magic words" that helped African Americans stand up for freedom when racism and segregation tried to knock them down. Maku is reluctant to believe this story of "magic words" until his mother challenges him to write the poem and become a man of "magic words" like the poet, Langston Hughes, whom she believes was, "One of the most heroic men to walk the face of the earth." Maku accepts the challenge but runs into trouble when he begins to doubt that he has the ability to write the poem and his problem turns into a challenge for the entire family.
The Long Ride Home--Sanko, a young African American boy, sets out to accept a schoolyard challenge to solve the mystery of Peter, the son of Sojourner Truth, who mysteriously disappeared on a whaling boat in 1839. Even though Sanko is proud of his keen imagination and mystery solving abilities, he finds this mystery quite challenging, because Peter, like many of the black men who went to sea when whaling was a big part of the American maritime industry, did so in secrecy. Many of them were escaping from slavery and wanted to disappear. Seeking advice from his Uncle Carlos, Sanko finds that he must use his imagination if he is to solve the mystery of what happened, an imagination that Sanko says, has taken a vacation. When Sanko feels at wits end and unable to meet his challenge, his friend Kiki takes him on a misty-night boat ride that serves to jar his imagination with a trip to the past and into the jaws of danger. Sanko develops a new appreciation and understanding of Peter Truth that will serve him for the rest of his life.
The Path to Everywhere--This story takes us to a small town in the state of Alabama in 1954 before the Supreme Court decision in Brown Vs. The Board of Education. Jesse, a young black boy returns home to discover that his older brother, Ted has been expelled from school for misplacing his book. His brothers and sisters know that he brought the book home to share with Jesse because Jesse loves to read and wants to get ahead. This way they believed that Jesse could catch up with children that attend the white school because schools for black children in Alabama were separate and unequal. When Jesse learns that the white kids will receive new books that tell of new places all over the world, he decides that he must be able to read them. He tells his mother that he will run away and never return if he cannot read the new books. After hearing this, Jesse's parents decide to move north to Albion, Michigan so their children can attend better schools. However, after moving, Jesse runs into an obstacle just as large as the one they faced in the south that threatens to keep him from attending school and, above all, prevent him from visiting the library, where he could find the books that would allow him to read about the far away places he dreams of.
Seven Stops to Freedom--(Juneteenth Award Winner) On a cool September evening, in the state of Mississippi, years before the civil war, Josh Acres, a slave since childhood, sets out alone to escape from slavery on the Underground Railroad. His plans will take him through the state of Kentucky where he will join with his wife Anna and son Malik. They will travel north through Ohio, Indiana, and Michigan until they reach Canada, the "promised land" and freedom.
Aesop and the Dancing Computer--(New last Season!!!) Sanko asked his mother to buy a personal computer so that he can work on his class assignments at home but his mother tells him that she can't afford a home computer. To convince his mother to change her mind, Sanko promises to help pay for the computer. In addition, he promises to teach her to use it because he needs her help with a big assignment. Sanko's mother agrees to buy the computer but she says "no" to learning how to use it. Realizing that he needs his mother's help, he tells her that the new computer has developed a virus and she must help to heal it by working on it, morning, noon, and night. All goes well with his scheme until his mother finds that Sanko has been dishonest with her and she decides that the computer must go back, unless he can make it "dance." Sanko discusses his dilemma with his friend Kiki and together they consult the world's greatest storyteller to devise a plan to make the computer dance! In the end Sanko learns that honesty is the best policy!
A Seat For Rosa--The story begins on Sanko's birthday, when he visits his Aunt Georgia and finds her talking on the phone. Sanko is very sad because his schoolmates have been teasing him about his size, telling him that because he is so small he would never amount to anything. Aunt Georgia, seeing his distress, tells him of a day in her life when one small person, Rosa Parks, who lived around the corner from her in Montgomery, Alabama, changed the lives of millions of people in America, and around the world. Aunt Georgia relives the moment and takes Sanko along for a great historical ride.
The Life and Times of Rosa Parks--is an adaptation of the play, Rosa Parks. It features three performers Fran Washington as Rosa and Von H. Washington and Curtis Gulledge, providing narration and music. This production lasts for approximately fifty minutes. In it, the writers reveal how the play was created. It also reveals why Rosa Parks refused to move from her bus seat in 1955, why she left the city she loved--when she had fought so hard to save it, and her life after leaving Montgomery and moving to Detroit. It highlights the music she loved and the memories that kept her strong during the good times and the bad. In addition, it highlights the American Civil Rights struggle at it's highest point. Not always sweet and charming, this fascinating and insightful story was personally approved by "The Mother of the Civil Rights Movement."
When Freedom Came--A young girl is troubled when her classmates tease her about her name. Unaware of why she was named Victory, she takes the problem to her mother who explains that it is a family tradition, in honor of their ancestors who fought for freedom in the Civil War. However, Victory can't find evidence of this in her school books, so she goes to her great uncle Fred, for more information. Uncle Fred, using an old book about Negro life, tells Victory of the activities of African Americans, like Frederick Douglass and Harriet Tubman, who played important parts in the big war. Most importantly, he tells her about the moment she is named after, a moment of great importants to all Americans. Victory decides that the only way to tell her classmates about this is to enter the school speech contest, a contest she has been told that "only boys win," and tell them why her name is so important.
African American Folk Tales I--This marks the twelfth year that Von and Fran have offered short stories in a series, dealing with African American life and experiences. Two of the stories, The Ghost of Moosha and Sahsoo's Revenge, from the series,The Whole Life Adventures of Sanko and Kiki, have been performed for more than 200 schools and other organizations throughout the region. Other stories are Nyapoko, Jimsella, Talypo, The Wonderful Tree, Bennie's Drum, and many more.
African American Folktales II--(Featuring two new stories and a few favorites from the original)-- Designed for entertainment and education, this production features stories of the old south, the city, the farm, and Africa. The stories have been prepared and selected with family values in mind. The stories are spirited, informative, entertaining and insightful. Each story takes the audience on an action-packed journey full of surprises!
Mystery in the Bottom--In this adventure, Sanko and Kiki try to live up to their new found "Civic Responsibility," by trying to expose a street gang said to be stealing precious items from the community. Working with clues from the local police, and "word on the street," Sanko and Kiki set out to trap the gang and become civic heroes. To do this they have to go into a dangerous area of the city, "the bottom," an area they were told to stay out of if you don't know what you are doing. Sanko and Kiki ignore the warning and travel deep into the "bottom" to locate the gang's hideout. The events turn treacherous and they find themselves hanging on for dear life. In the end, they learn that things are not always what they seem.
The Children of Herero--In preparation for a boat trip to Africa, Sanko and Kiki visit the Charles Wright Museum of African American History. While visiting, their uncle Carlos tells them all about the art and history of sailing. Sanko is very excited because he wants to be a sailor when he grows up. Kiki is worried about the boat trip because she's afraid of water. However, the visit leads them to a display of an ancient sailing ship that captures her imagination and sends her on one of the most exciting adventures of her life. An adventure that takes her to the coast of Africa for a visit with ancestors who are trapped on a slave ship that is headed for America. Alone and afraid, Kiki finds that she must overcome her fear of water and use her physical prowess and musical talents to free herself and the others, before they are lost forever.
The Dream Tunnel--Sanko becomes worried when he overhears his teachers talking about how children who grow up without positive role models are sure to get into trouble. Sanko decides that he has to find more role models and goes to visit his uncle Fred. Uncle Fred tells him that he can talk to all the role models he wants by entering the dream tunnel, but he warns him to be careful not to get mixed up with the wrong people. Sanko wants to locate his great great grand-father who escaped to freedom on the Underground Railroad. Sanko decides to enter the tunnel with Kiki watching at the gate for his safe return. When he doesn't return on time , Kiki has to go in after him. Before this trip is over, Sanko and Kiki meet Harriet Tubman and learn more than they bargained for.
The Legend of Sojourner Truth: Contact in Harmonia--It takes a broad stroke of natures's creative pen to tell the story of Sojourner Truth. Born into American slavery as Isabella, her deeds and actions influenced the lives of almost everyone in America, and countless others in foreign lands. Fran and Von use a little creative magic as they tell of a spirit like encounter with Sojourner one-hundred-twelve years after her death. During the action, they experience the danger of living in America during slavery and they share heart breaking moments with Sojourner as she relives her past.
Reflections on Martin Luther King--For Many years, Fran and Von have been celebrating the work of Dr. Martin Luther King, Jr. In this presentation, they continue their celebration by highlighting the thoughts of Martin as seen through the eyes of millions of people around the world. They trace Martin's life from the beginning of his association with his wife Coretta and continue through the Civil Rights Movement and right up to the moment of his death. Excerpts from several of his most important and famous speeches highlight this presentation. Although many people can recognize Martin's voice when they hear it, much of what he said and stood for has been forgotten. Gospel singer Curtis Gulledge is also featured in this production.
A Kwanzaa special: Screaming Lydia--This story takes us to the wind swept streets of Detroit Michigan during the coldest winter anyone can remember. Times are hard, people are depressed and something is needed to lift their spirits. Christmas is days away, but the thought only reminds people of how things use to be when there were jobs, happiness, and something to look forward to. It has been said that something was needed, desperately needed, to improve the quality of life and the image of the people.Some said, that only the spirit of the "motherland" could help. But they were far removed from the "motherland" in spirit, time and knowledge. Possibly a miracle was needed, but all that was heard were the screams of Lydia in the cold, cold night. It seems that Lydia's screams are connected to a fear of growing older without something of her own to identify with. In order to help, her father goes on a search for a mysterious stranger that has the power to stop the crying and improve the quality of Lydia's life.
Voices From Black America--A mixture of poetry, drama, and commentary about African American Life. Sometimes, Von and Fran are in a mood for a mixture of dramatic creations. When this happens they pull out their book of favorites and produce this wonderful evening of artistic creations. Some of the pieces are the creations of other African Americans such as Paul Lawrence Dunbar, Alice Childress, Jelius Lester, Langston Hughes, James Baldwin and Buddy Hanna. Commentary, provided by Fran and Von, includes the thoughts and deeds of Martin Luther King, Malcolm X, Sojourner Truth, Harriet Tubman, and others.
The Day they all Came--Highlights from the greatest civil rights gathering of all time, the 1963 Poor Peoples March on Washington, D.C.In August of 1963, 250,000 African Americans, and others, converged on the nation's capital to protest discrimination, bigotry, and racism. Among the thousands of voices heard at that time were those of two reporters who witnessed, deciphered, and recorded words and feelings of the unknown, the well known, the prominent, the influential, the colorful and the concerned. This is their story.
Let The Brotha Talk: This lively production focuses on an African American male who puts his reputation on the line when he agrees to be a guest on a radio talk show hosted by the very popular and controversial African American female radio personality, Jeannie Jeane. Although he knows that people are often made fools of when being interviewed on her show, Mr. Blackman, as he is called for reasons of anonymity, decides that he must answer her challenge to clear up the picture of what is going on with African American males.
Run time: 50 min Always available Suitable for all ages
Looking for Talika--Deciding to take a "look back" after 25 years of seemingly blissful marriage becomes problematic for Don and Dee as they prepare to celebrate their wedding anniversary. "Described as an invigorating concoction of romance, wit, sentimentalism and tragicomedy, this anniversary event produces findings that require a news look at the past to decide what will happen in the future." (Kalamazoo Gazette) As one of last seasons's most popular productions, many audience members commented,"we thought you took your story form our lives." Von and Fran created this play to reveal a married couple dealing with the complexities of a modern-day relationship.
Run time: 1 Hour Always available Suitable for all ages
I Probably shouldn't Say it. . . but--How many times have you said something that you have regretted? How many times have you done something that you knew was wrong? How many times? Well, you get the picture. In this extremely popular production, Von and Fran play numerous characters in various situations attempting to figure out what a relationship between a male and a female is supposed to be, or what it is not supposed to be, or if it's supposed to be at all. This collection of vignettes explore why we say what we say and why we do what we do.
Running time: 1 hour Always available.* Plus expenses for production more than 50 miles from home site.)